Znanstvenici se spore oko 200,000 godina razlike u datiranju
Mjesto: Atapuerca špilja u sjevernoj Španjolskoj
Nađeno: 28 ljudskih tijela.
Starost: Znanstvenik Arsuaga i kolege iz Sime: 600,000 godina
Starost: Chris Stringer iz Natural History Museuma UK: 400,000 godina
Vrsta: Arsuaga tvrdi – to je Homo heidelbergensis, predak Neandertalaca
Vrsta: Stringer tvrdi – to je Neandertalac,
Problem: osim 200,000 godina razlike u datiranju, profesor Stringer tvrdi da je Homo heidelbergensis predak današnjeg čovjeka.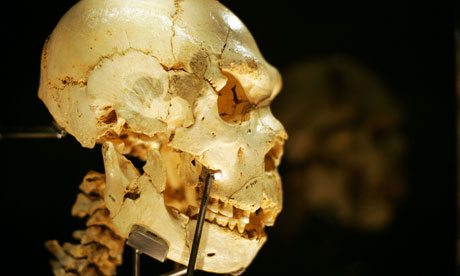 …. the remains of 28 bodies have been dug up, the world's greatest single haul of ancient human fossils. During this time, Arsuaga and his team pushed back the dates of their finds to 600,000 years ago and assigned them as belonging to Homo heidelbergensis.
But Britain's leading expert on human evolution, Professor Chris Stringer, of the Natural History Museum, has warned in the journal Evolutionary Anthropology that the team in charge of La Sima has got the ages of its fossils wrong by 200,000 years and has incorrectly identified the species of ancient humans found there.
Sima scientists argue that the fossils must be older. They say the 28 bodies were thrown into the pit as an act of reverence for the dead and that the stalagmite grew over the sediment containing the bones.
However, this interpretation is controversial. No one has found any other evidence of ceremonial behaviour in humans of that antiquity. In addition, there is a deficit of small finger and toe bones. "If complete bodies were thrown in there, you would expect to see every piece of human anatomy down there," said Stringer. "But you don't. A lot of skeletal parts seem to be missing."
This dating and identification has caused increasing upset among other palaeontologists. The scientists at La Sima believe H heidelbergensis is an ancestor of Neanderthals but not of Homo sapiens. However, others, including Stringer, believe it is indeed an ancestor of our species.
Tags: Arsuaga, Chris Stringer, Homo heidelbergensis, Neandertalci