Thursday, September 15th, 2011
Guardian donosi članak o izmjeni genetskog materijala koji su znanstvenici izveli na stanicama kvasca.
Scientists made sections of chromosomes, the long molecules that bear DNA, and transferred them into yeast cells, of the kind normally used in baking.

The cells adopted the new genetic code as part of their normal cellular machinery and, to the scientists' surprise, appeared as healthy as their natural counterparts.

The feat is a big step towards the manufacture of completely synthetic organisms that could be designed to churn out biofuels, vaccines and industrial chemicals, said Jef Boeke, who led the study at Johns Hopkins University in Maryland.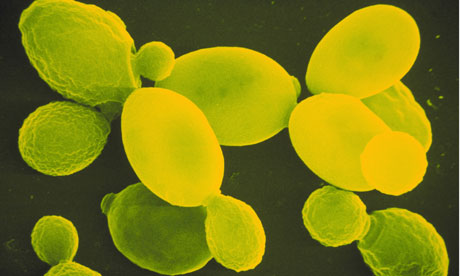 Promjene su napravljene na računalu gdje su digitalno izdvojili nepotrebne dijelove DNK na kromosomima. Znanstvenici očekuju da će takav pristup biti široko primjenjiv:
"Man and yeast have this ancient relationship. We've been brewing beer and making bread since before the written word," said Boeke. "Nowadays, a major share of fermentation is done using yeast, and that's everything from making vaccines to chemicals and biofuel production.